| | |
| --- | --- |
| | There are about one million different kinds of denizens of the animal world that breathe without any lungs or gills, yet all have the same three body sections, six legs and antennae. Up close, their appearance is sure to outdo any special effects movie creature. And what's more, they're real. Ants are just one kind of these terrestrial animals. |
A Typical Ant Nest
Worker ant scouts
returning to nest
Worker ant
digging
Ant Larvae look
like grubs. They
are shown in the
center of this ant
colony. Each ant
larva will grow to
become a full
grown ant.
Egg laying Queen
The ant larvae hatch from the ant eggs.
| | |
| --- | --- |
| | The typical ant colony is usually centered around one or more egg-laying "queens". The smaller worker ants care for the queen and her eggs. |
| | | | |
| --- | --- | --- | --- |
| The smaller male ants and the larger queen ants all have wings. The male's life-span is short. Only the queen begins a new colony. | | | A typical queen ant will usually fly to a new location to start a new colony by herself. She will not need to fly any more, so she sheds her wings. |

With their combined weight greater than the combined weight of all humans, ants are the most numerous type of animal.
Strong in relation to their size, ants can carry 10 to 20 times their body weight. They work in teams to move extremely heavy things.
Ant brains are largest amongst insects. Mushroom shaped brain appendages have function similar to the gray-matter of human brains.
It has been estimated that an ant's brain may have the same processing power as a Macintosh II computer.

What happens when ants are painted with color dots?
Colored dots painted on the backs of ants according to the type of work they are observed doing show that ants have specific jobs.
So yellow dotted ants would concentrate on cleaning. Teams of green dotted ants forage outward for food. Orange dotted ants would take care of the young.
After a few
days or weeks, the ants may change their jobs as they take on new skills.
Sometimes when a catastrophe occurs, the ants respond by quickly adapting their duties to overcome the problem.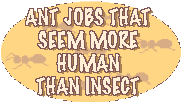 ANTS DISPLAY THESE SOCIAL ENDEAVORS
LIVESTOCK FARMING
herd aphids and "milk" them for nectar-like food
CULTIVATION
growing underground gardens for food
CHILDCARE
feeding young and providing intensive nursery care
EDUCATION
teaching younger ants the tricks of the trade
CLIMATE CONTROL
maintaining a strict 77o for developing ants
CAREER SPECIALIZATION
changing & learning new careers
CIVIC DUTIES
responding with massive group projects
ARMED FORCES
raising an army of specialized soldier ants
SECURITY
warding off other ants, insects and animals
EARTH MOVERS
move at least as much soil as earthworms
SOCIAL PLANNING
distribute different jobs among the colony
ENGINEERING
tunnel from two directions and meet exactly midway
COMMUNICATIONS
complex tactile and chemical communication system
FLOOD CONTROL
incorporate water traps to keep out rain
SANITATION
some ants process waste material so that it safely decomposes
LIMITED FREE WILL
inter-relationships more symbiotic than coercive
---
All images, animation and ant tunnel background on this website were created by Robert Truscio.
Educational and school websites may link to this page.
©1997-2016 Robert Truscio (revised 2017)
(Surfnetkids & Bigchalk logos used by permission)



This site was found to be in the top 2% of sites reviewed by bigchalk.com based on its rich content and its academic relevance.