THE PRIMARY COLORS OF LIGHT
Light has its own set of three primary colors. These are the "additive" primary colors.
The primary colors of light are red, green and blue. They should not be confused with the three primary colors used for paints, inks, dyes and other colorants. The primary colors for light combine in a different way.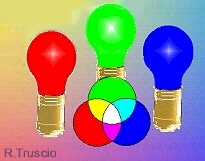 Mixing color light is called additive color mixing, because adding light from two or more sources produces the mixed color. The illumination from two or more colored light sources when added together will give more illumination than any of the lights by themselves.
This can be seen where the color illumination overlaps. The yellow formed when red light overlaps green light will be brighter than either the red light or green light alone.
When the right amounts of red, green and blue light come together, the result appears as "white" light.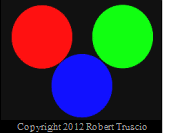 One of the most common uses of mixing the primary colors of light is for LCD LED and CRT television and computer monitor screens.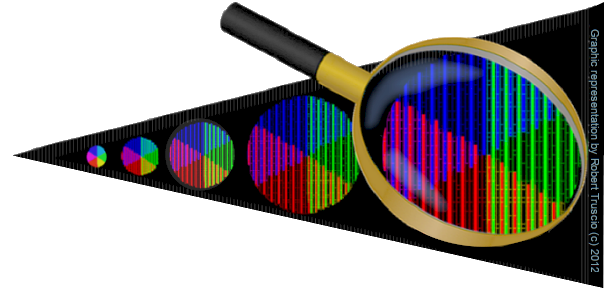 These types of screens are made up of rows and rows of red, green and blue stripes. From normal viewing distances, the stripes are usually not noticeable. The human eye causes these stripes that make up a screen image appear to blend together. Since they blend together in this way, the stripes act just as if they are mixing the colors of light together.
| | | |
| --- | --- | --- |
| | The changing intensity of each stripe segment allows for all the colors and shades of a computer image or a television movie to be displayed on the viewing screen. But if we were to view a screen image with a powerful magnifying glass, we would see the rapidly changing elements of red, green and blue that make up a moving image. | |
These technologies use the red blue and green primary colors of light. What is interesting is that there is a relationship between the three primary colors of light and the three primary colors of paints, inks, dyes and other colorants. Since this website is about both additive and subtractive color mixing, the following chart shows this relationship.
ANY TWO ADDITIVE PRIMARY COLORS MIX TO MAKE ONE OF THE SUBTRACTIVE PRIMARY COLORS
| | | | | |
| --- | --- | --- | --- | --- |
| Additive Primary | + | Additive Primary | = | Subtractive Primary |
| GREEN | + | BLUE | = | CYAN |
| RED | + | GREEN | = | YELLOW |
| BLUE | + | RED | = | MAGENTA |
For more about the "subtractive" primary colors, select the topic "Subtractive Color" from the tabs on the top of this page.