Lithography, better known as offset printing, is used to print the black and white and color photos we see in many magazines, brochures, newspapers and books. It is also called photo offset printing.

Color offset printing utilizes the "subtractive" color system of mixing colors. When using the subtractive primary colors of cyan, yellow and magenta, along with black, offset printing can reproduce full color images.
How are different shades and colors printed using just three colors along with black?
YELLOW
CYAN
MAGENTA
Full
Color
BLACK
The four colors of ink are on separate ink rollers. In order for the ink to vary in intensity, the picture to be printed is broken up into dots of various sizes. The smaller each dot, the lighter the color will print. The larger the dot, the darker the color will print. The addition of black adds to the range of possible shades. The cyan, yellow, magenta and black dots are printed one on top of the other as the paper comes in contact with four separate inked surfaces. The result is a full color picture.
HALFTONES
Here is a greatly magnified view of these tiny dots.

The human eye can see small detail only to a certain degree. The result of this gives the dot patterns as shown above an evenly shaded appearance when viewed from normal viewing distances as shown by the smaller image on the right.
In this way, a large range of black and white tones can be reproduced from a single supply of black ink. The varying amounts of the white paper surface that shows between the dots creates these different shades of grey.
FOUR COLOR PRINTING
Much of the color that we see in newspapers, brochures and magazines is the result of four color offset printing.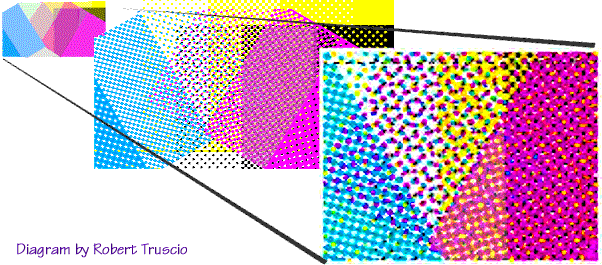 The color ink is usually semi-transparent. Under magnification, the individual color halftone dots can be seen printed one layer on top of another.
Newer methods of translating colors, tones and shades into dot patterns using computers have improved on the overall appearance of printed color pictures.
There are several reasons why black is used along with the primary "subtractive" colors in printing. One reason is that is takes a lot of cyan, magenta and yellow to make black. Too much ink in the same place may cause the paper to curl. It might take longer to dry and the color may run or spread. The amount of ink used can be greatly reduced by using black ink along with the color.
COMPUTER AND HOME PHOTO PRINTERS

Most computer printers use at least the three "subtractive" primaries of cyan, yellow and magenta inks along with black. Some manufacturers have added extra color inks for light cyan and light magenta and grey tones. This allows for an extended range of light colors without dot patterns becoming noticeable, even when viewed up close.
Personal printer design, along with improvements in image programming, has enabled the printing of photographs that approximate color film quality.
For additional details about color lithographic printing, select the link below.*